2008 Tokyo Restaurant Guide
In the autumn of 2007, a world-famous French tire manufacturer published a Tokyo restaurant guide for the first time. Even before its release, the guide was a sensation and sold out at many bookstores, but a 2AD staff member managed to purchase one. When I opened the book, I was shocked–not by the content, but by the typesetting. It was the worst I had ever seen in a major publication and I have never seen anything as bad since.
Even the most basic rules of Japanese typography, such as not using long dashes to represent lengthened vowels or long consonants, not putting a palatalized syllable at the beginning of a line and not putting a quotation mark at the end of the line, were not followed at all. Such violations could be found on every page making the book virtually unreadable. On one page, I even found a line of text starting with a space. The book was a true publication disaster.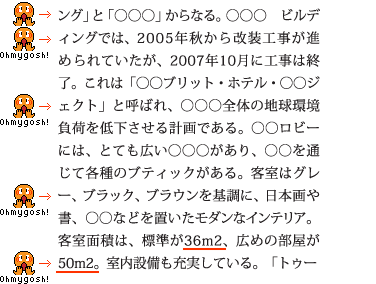 *Examples of incorrect typesetting are close facsimiles of the actual Restaurant Guide typesetting.
I learned later that the problems with the guide were caused by a lack of understanding about the functions of the layout software. However, not only designers and operators, but also editors, writers and proofreaders must have been involved in the layout process. Taking this into consideration, I still wonder how the book was published without these glaring mistakes being caught.
The guide, itself, became a major topic in the mass media and the publication was a great success. But no one talked about the typesetting of the book. Did this mean that most of those who purchased the book did not have a problem reading it? I was really surprised by this!
To use a food analogy (after all, we are talking about a restaurant guide), typesetting is to a layout like rice is to sushi. No matter how fresh and delicious the fish might be, if the rice is not well cooked, the sushi cannot keep its shape. Not very appetizing!
The following year, both the typesetting and overall layout of the guide were significantly better, but the first printing was a real disappointment.
(2011_sep_t)